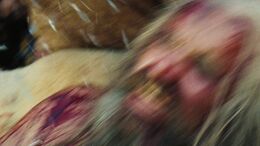 Bill Moseley (1951 - )
The Texas Chainsaw Massacre 2 (1986)

[

Chop Top Sawyer

]: Falls off a cliff on top of being slashed across the stomach with a chainsaw by Caroline Williams. (Note: The unreleased 2000 sequel, All American Massacre, revealed he had survived his injuries, but the filmmakers did originally intend to be an actual death before deciding to bring him back in a sequel, so I'll list it.)
Fair Game

(

Mamba

)

(1988)

[

Frank

]: Bitten by the black mamba after

Gregg Henry

seals him in a car with it.
Crash and Burn

(1990)

[

Quinn

]: Playing an android, he is destroyed when a giant robot (controlled by

Megan Ward

) steps on him and crushes him.
Night of the Living Dead (1990)

[

Johnnie

]: Hits his head on a tombstone while trying to rescue his sister (

Patricia Tallman

) from the zombies; he later returns as a zombie himself and dies once again when hunters shoot him in the head. (

Thanks to Wen and Robert

)
Army of Darkness (1992)

[

Deadite Captain

]: Appears as a zombie. (

Thanks to Tommy

)

The Devil's Rejects (2005) [Otis B. Driftwood]: Seemingly killed along with Sid Haig and Sheri Moon Zombie in a shootout by the police. (Note: The 2019 sequel, 3 From Hell, reveals that he, Sid and Sheri survived their injuries, but the filmmakers did originally intend this to be an actual death before deciding to make a sequel, so it'll remain on the list.)
Fallen Angels

(2006)

[

Westin

]: Stabbed in the eyes with claws by a demon, after the demon cuts off his ear. (

Thanks to Cody

)
Halloween (2007)

[

Zach 'Z-Man' Garrett

]: Punched in the face by

Tyler Mane

. (This scene is only present in the theatrical cut of the film; he does not appear in the unrated version.) (

Thanks to Cody

)
The Graves

(2009)

[

Caleb 'Cookie' Atwood

]: Devoured by demonic insects, after being stabbed by Jillian Murray. (

Thanks to Tommy

)
​Exit Humanity (2011) [General Wiiliams]: Killed in a gunfight by Mark Gibson as they face off across the river. (Thanks to Brian)
Rogue River (2012) [Jon]: Shot in the chest with Michael Cudlitz's gun by Michelle Page as he goes to shoot her with his hunting rifle. She then picks up the rifle, shoots him in both arms and walks away, but he calls her a coward so she returns and stabs him repeatedly in the chest with a crucifix. (Thanks to Brian)
Texas Chainsaw (Texas Chainsaw 3D) (2013)

[

Drayton Sawyer

]: Shot to death, along with most of the rest of his family, by a group of townspeople led by

Paul Rae

, after the townspeople set the house on fire. (

Thanks to Tommy, Tim, and ND

)
'Old 37 (2015)[Darryl]: Killed by Kane Hodder (although I don't remember how)
Almost Mercy (2015) [Pastor Johnson]: Hit in the head with an axe by Danielle Guldin as he tries escaping with a silver suitcase.
Alcoholist (2016) [Grey Speckled Man]: Shot to death by Bret Roberts while taking a shower.
Smothered (2016) [Soggy Christian]: Playing an expy of Robert Englund, claws himself to death with his knife gloves after being drugged while Kane Hodder watches in horror.
The Possession Experiment (2016) [Father Mark Campbell]: Stabbed to death with a metal crucifix by a possessed Rachel Faulkner.
Boar (2017) [Bruce]: Decapitated by the titular beast.
Gothic Harvest (2019) [Hollis]: Tortured to death by Ashley Hamilton (off-screen); he is last seen bound as Ashley prepares to kill him.
Community content is available under
CC-BY-SA
unless otherwise noted.