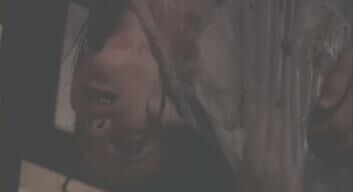 Bijou Phillips (1980 - )
Tart (2001) [Delilah Milford]: Beaten to death with a rock by Brad Renfro in the woods, after she threatens to expose him as a thief (as well as all his other embarrassing secrets). (Thanks to Damian)

Bijou Phillips * Wizard Of Gore
Octane (2003 also known as Pulse in the United States) [Backpacker]: Killed in an explosion (along with several cultists) when Norman Reedus sets off a bomb.
Venom (2005) [Tammy]: Blasted in the face with a sandblaster (off-screen) by the zombie Rick Cramer in his garage; the scene ends with the sandblaster firing at the camera. Her body is shown afterwards, along with several others, when Agnes Bruckner discovers them in a pit. (Thanks to Germboygel and Jake)
Hostel: Part II (2007) [Whitney]: Decapitated (off-camera) with a machete by Roger Bart, after Richard Burgi cuts her head but can't bring himelf to continue. A guard steps in front of the television monitor just before Roger strikes. (Thanks to Josh, Eric, Dave, and Andras)
The Wizard of Gore (2007) [Maggie]: Impaled through the back by a shard of glass when she falls through a mirror frame during a struggle with Kip Pardue; Kip then pushes her further down against the shard while smothering her.
Raising Hope: Pilot (2010) [Lucy Carlyle]: Executed in the electric chair. (She has reappeared in subsequent episodes in flashbacks and video footage; the later episode I Want My Baby Back, Baby Back, Baby Back retroactively revealed that she was only temporarily clinically dead and was resuscitated after the execution.) (Thanks to Andrew and Ropedoc)
Raising Hope: I Want My Baby Back, Baby Back, Baby Back (2012) [Lucy Carlyle]: Accidentally run over by a bus driven by the blind David Krumholtz, while Bijou is trying to kill Shannon Woodward. (Played for comic effect.) (Thanks to Andrew)
Community content is available under
CC-BY-SA
unless otherwise noted.