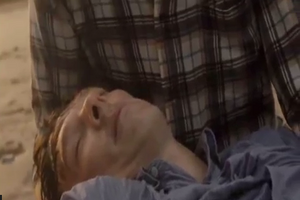 Benedict Cumberbatch (1976 - )
Film Deaths
[
]
Amazing Grace (2006) [William Pitt the Younger]: Dies (off-screen) of an unspecified illness; he is last seen talking to Ioan Gruffudd, before the film skips ahead to a later time.
The Other Boleyn Girl (2008) [William Carey]: In a deleted scene on the DVD, Benedict died from sweating sickness. As his character is based off the real William Carey.
Third Star (2010) [James]: Commits suicide by drowning himself in the ocean rather than waiting to die from terminal cancer.
The Hobbit: The Battle of the Five Armies(2014) [Smaug/Necromancer]: Playing a dual role, providing the voice and motion capture of the dragon "Smaug", Benedict is killed when Luke Evans fires a black arrow into his weak spot, his body falling onto Stephen Fry as he dies. (The "Necromancer" survives the movie.)
The Imitation Game (2014) [Alan Turing]: Commits suicide (off-screen) a year after the film closes, after being forced to take female hormone treatment. His death is mentioned in the closing text.
Doctor Strange(2016) [Dr. Stephen Strange/Dormammu]: Playing a dual role both as "Dr. Strange" and the motion capture and voice of the entity "Dormammu", Benedict dies several times: (1) "Strange" is temporarily clinically dead when he flatlines while Rachel McAdams is trying to keep his wounded body alive while his spirit fights Scott Adkins in the astral plane; he's revived when Rachel defibrillates him, supercharging his attacks. (2) "Strange" dies countless times when he confronts "Dormammu" in the dark dimension to make a bargain with him, including being stabbed with spears, impaled, crushed, and blasted with beams, using his powers to create a time loop to imprison "Dormammu" until he submits.
Avengers: Infinity War (2018) [Dr. Stephen Strange]: Disintegrated from existence by Josh Brolin's Infinity powers as Benedict explains to Robert Downey Jr. his reason for giving his Infinity Stone to Josh. He is later resurrected when Mark Ruffalo uses the Infinity Stones to bring all the people disintigrated out of existence back to life in Avengers: Endgame (2019).
Mowgli: Legend of the Jungle (2018) [Shere Khan]: Voicing a CGI tiger, he is stabbed in the head by

Rohan Chand

as the apparently injured Benedict attempts to suddenly attack him.
Television Deaths
[
]
Notable Connections
[
]
Gallery
[
]