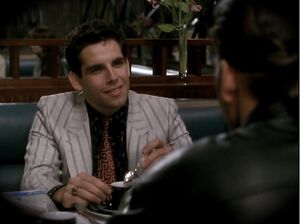 Ben Stiller (1965 - )
The Cable Guy (1996) [Stan Sweet/Sam Sweet]: Playing twin brothers, "Stan" is shot (off screen) by "Sam"; his death is mentioned in a news report Jim Carrey watches.
The Secret Life of Walter Mitty (2013) [Walter Mitty]: In a fantasy sequence, Ben dies of "old age" after regressing to infancy due to his aging in reverse while talking to Kristen Wiig, in a parody of Brad Pitt's death in The Curious Case of Benjamin Button. (Ben survives the film in reality.) (Played for comic effect.)
Big Time In Hollywood, FL: Severance (2015) [Jimmy Staats]: Shot to death by the police as Stiller pretends to shoot them back (played for comic effect.)
Community content is available under
CC-BY-SA
unless otherwise noted.