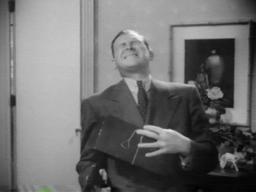 Barton MacLane (1902 - 1969)
Film Deaths
Edit
To the Last Man (Law of Vengeance) (1933) [Neil Stanley]: Crushed to death by a roadside after Jack LaRue and Noah Berry dynamite the cliff face; while Barton, Randolph Scott and the rest of the posse are chasing Jack and Noah. (Thanks to Stephen)
Bullets or Ballots (1936) [Al Kruger]: Shot in the chest by Humphrey Bogart.
The Prince and the Pauper (1937) [John Canty]: Killed by Errol Flynn.
Western Union (1941) [Jack Slade]: Shot to death in a shoot-out with Robert Young in the street in front of the barbershop. (Thanks to Stephen)
Gentle Annie (1944) [Sheriff Tatum]: Shot in the chest in a shoot-out with Paul Langton after Barton mortally wounds Paul; his body then falls over the railing to the street below.
Nabonga (1944) [Carl Hurst]: Mauled to death by the mortally wounded gorilla (Ray Corrigan) after Barton shoots it.
The Spanish Main (1945) [Captain Benjamin Black]: Drowned, off-camera during a fight with Mike Mazurki after they fall off of a bridge and into the river; his body is not shown and is never verbally confirmed that he's dead, but it's implied by the fact that we only see Mike emerge from the water.
Tarzan and the Amazons (1945) [Ballister]: Drowned in quicksand, along with Donald Douglas, when they run into the quicksand while trying to escape from Johnny Weissmuller. (Thanks to Stephen)
Relentless (1948) [Tex Brandow]: Shot twice in the back from up in the boulders by Mike Mazurki as he is being held at gunpoint by Robert Young. (Thanks to Brian)
Unknown Island (1948) [Captain Tarnowski]: Mauled to death by Giant Sloth.
​Backlash (1956) [Sgt. George Lake]: Fatally shot in the chest by an Apache as they pursue him and Richard Widmark. He dies on the trail a little later. (Thanks to Brian)
TV Deaths
Edit
Black Saddle: Client: Braun (1959) [General Orestes Fowler]: Shot down in his cabin by Vic Perrin. Vic thinks he's dead but as he goes to give a false statement to Marshal Russell Johnson, Barton shoots him in the back before expiring. (Thanks to Brian)'
Notable Connections
Edit
Community content is available under
CC-BY-SA
unless otherwise noted.