watch 01:45
The Loop (TV)
Play Sound
Barry Sullivan (1912 - 1994)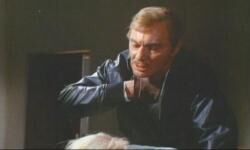 The Green Hornet Strikes Again! (1940) [Thug in Car's Back Seat]: After being knocked out by Warren Hull's gas gun, Barry is killed when the car drives off an opening draw bridge and plunges into the river.
Cause for Alarm! (1951) [George Z. Jones]: Collapses and dies from a heart attack after rising out of bed, before he can shoot and kill his wife (Loretta Young); after admitting he has sent a letter to the District Attorney, containing accusations against his wife and the doctor ( Bruce Cowling ) for trying to kill him with overdoses of medication for his heart problems, resulting from suspicion that they were having an affair. (I havent seen the film, but I have read the synopsis off of wikipedia.).
Seven Ways From Sundown (1960) [Jim Flood]: Shot dead by Audie Murphy when he draws on him. (Thanks to Brian).
Pyro (Fuego; Pyro...the Thing without a Face; Wheel of Fire) (1964) [Vance Pierson]: Commits suicide by Jumping from a ferris wheel when cornered by police after Soledad Miranda tries to talk him into surrendering.
Johnny Belinda (1967) [Black MacDonald]: Presumably killed in a struggle with David Carradine. (I haven't seen this myself, but I've seen Charles Bickford's death in the 1948 version)
Take a Hard Ride (La Parola di un fuorilegge....e legge!) (1975) [Kane]: Reportedly shot in the back by Lee Van Cleef (I haven't seen this movie myself) (Thanks to Michael)
Violent Naples (Napoli violenta) (1976) ['O' Generale] Shot by Maurizio Merli.
Alfred Hitchcock Presents: The $2,000,000 Defense (1958) [Mark Robeson]: Reportedly killed by Leslie Nielsen (I haven't seen this episode myself, but I got the information from the episode guide).
Bonanza: Death on Sun Mountain (1959) ['Mark Burdette]: Fatally shot in the back by Leo Gordon; he manages to shoot Leo in turn before dying.
The Dick Powell Theatre: Crazy Sunday (1962) [Miles Calman]: Killed offscreen in a plane crash. We hear about it in a radio broadcast. (Thanks to Brian)
Yuma (1971) [Nels Decker]: Gets an arrow in the back from one of Rudy Diaz' Apaches just as he is about to shoot Clint Walker. (Thanks to Brian)
Community content is available under
CC-BY-SA
unless otherwise noted.