Barry Sullivan (1912 - 1994)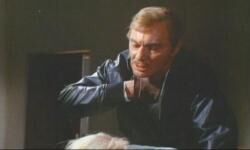 Film Deaths:
The Green Hornet Strikes Again! (1940) [Thug in Car's Back Seat]: After being knocked out by

Warren Hull

's gas gun, Barry is killed when the car drives off an opening draw bridge and plunges into the river.
Cause for Alarm! (1951) [George Z. Jones]: Collapses and dies from a heart attack after rising out of bed, before he can shoot and kill his wife (Loretta Young); after admitting he has sent a letter to the District Attorney, containing accusations against his wife and the doctor ( Bruce Cowling ) for trying to kill him with overdoses of medication for his heart problems, resulting from suspicion that they were having an affair. (I havent seen the film, but I have read the synopsis off of wikipedia.).
Seven Ways From Sundown (1960) [Jim Flood]: Shot dead by Audie Murphy when he draws on him. (Thanks to Brian).
Pyro (Fuego; Pyro...the Thing without a Face; Wheel of Fire) (1964) [Vance Pierson]: Commits suicide by Jumping from a ferris wheel when cornered by police after Soledad Miranda tries to talk him into surrendering.
Johnny Belinda (1967) [Black MacDonald]: Presumably killed in a struggle with David Carradine. (I haven't seen this myself, but I've seen Charles Bickford's death in the 1948 version)
Take a Hard Ride (La Parola di un fuorilegge....e legge!) (1975) [Kane]: Reportedly shot in the back by Lee Van Cleef (I haven't seen this movie myself) (Thanks to Michael)
Violent Naples (Napoli violenta) (1976) ['O' Generale] Shot by Maurizio Merli.
TV Deaths:
Alfred Hitchcock Presents: The $2,000,000 Defense (1958) [Mark Robeson]: Reportedly killed by Leslie Nielsen (I haven't seen this episode myself, but I got the information from the episode guide).
Bonanza: Death on Sun Mountain (1959) ['Mark Burdette]: Fatally shot in the back by Leo Gordon; he manages to shoot Leo in turn before dying.
The Dick Powell Theatre: Crazy Sunday (1962) [Miles Calman]: Killed offscreen in a plane crash. We hear about it in a radio broadcast. (Thanks to Brian)
Yuma (1971) [Nels Decker]: Gets an arrow in the back from one of Rudy Diaz' Apaches just as he is about to shoot Clint Walker. (Thanks to Brian)
Noteworthy Connections