Awoken (2019)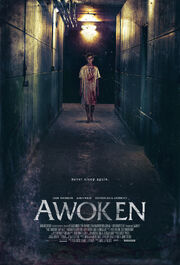 Reportedly, FFI (Fatal Familial Insomnia) is a real medical condition that affects about sixty to seventy families around the world.
This horror movie, which is about a real terminal sleep illness called 'Fatal Familial Insomnia', is filming in the same movie studio facilities that filmed 'Girl Asleep' (2015).
The film was made at the same time as a similarly titled sci-fi tele-movie called 'The Awoken' was in development. Moreover, 2019 saw the release of a comedy tele-movie called 'Awokened'.
FFI (Fatal Familial Insomnia) is reportedly a medical hereditary disease which prevents one from sleeping because of a brain defect.
Publicity for the film states that FFI (Fatal Familial Insomnia) is a terminal sleep illness where you are unable to sleep until you die.
The medical acronym FFI stands for "Fatal Familial Insomnia".
A title card seen in the movie states: ''1 in 3 people have some form of sleeping disorder. 95% of people who experience sleeplessness longer than 18 days rarely survive. The ones who lives past this point do not need doctors... ...they need priests.''
Director Daniel J. Phillips has said that the cult horror story 'The Russian Sleep Experiment' (2015) was a very loose inspiration for the movie.
This film's writer-producer-director Daniel J. Phillips has said of this movie: "I wanted to make the type of horror film not dependent on blood and gore to win its fans, but terrifying sequences they will never forget, and characters grounded in reality...We've all seen scary films that make us afraid to go to sleep this will be the first one that will make us afraid to stay awake."
This horror movie's writer-producer-director Daniel J. Phillips has described this film as being the "antithesis" of the 'A Nightmare on Elm Street' movie series. Phillips has also added that he intends 'Awoken' (2019) to be aimed at being in the same ilk as 'Insidious' (2010) and 'The Conjuring' (2013).
Movie inspirations for the film inspiring director Daniel J. Phillips included 'The Conjuring' series, 'The Exorcist' (1973), 'The Shining' (1980), 'Cloverfield' (2008), 'The Blair Witch Project' (1999), and 'The Russian Sleep Experiment' (2015).
This film, shot in South Australia in 2018, stars Erik Thomson, who also co-stars in the same year's 'Storm Boy' (2018), the remake of the South Australian classic film 'Storm Boy' (1976), which had shot the previous year in 2017. Thomson has also appeared in such South Australian feature film productions as 'Beautiful' (2009) and 'The Boys are Back' (2009).
Writer-producer-director Daniel J. Phillips told the 'Rue Morgue' website in an interview: "The sort of horror I'm going for is more sophisticated. What I mean is that it's not about super-gore. It's more about tension, and playing upon a growing sense of claustrophobia. It's got the slow burn of a more traditional horror film."
According to the 'Rue Morgue' website, 'Wolf Creek' writer-director acted as a script editor for a time on the film. The site reports that ''early in its four-year development...filmmaker Greg McLean performed duties as a script editor on the project, and [director Daniel J.] Phillips appreciated McLean's feedback so much that he adopted one of his concepts and sutured it into another script revision.''
The production designer on this South Australian horror movie was Robert Webb who previously worked in the same role on both South Australian horror movies 'Wolf Creek' (2006) and 'Wolf Creek 2' (2013) as well as the second series of 'Wolf Creek' TV.
Community content is available under
CC-BY-SA
unless otherwise noted.