Line 12:
Line 12:
 

* '''[[Legion (2017 series)|''Legion: Chapter 1'' (2017)]]''' [''[[w:c:legion:Lenny Busker|Lenny Busker]]'']: Fused into a wall by [[Rachel Keller]] after she switches bodies with [[Dan Stevens]] and loses control of his powers. She is later resurrected when [[Jemaine Clement]] uses a device to create her a new body from [[Katie Aselton|Katie Aselton's]].

 

* '''[[Legion (2017 series)|''Legion: Chapter 1'' (2017)]]''' [''[[w:c:legion:Lenny Busker|Lenny Busker]]'']: Fused into a wall by [[Rachel Keller]] after she switches bodies with [[Dan Stevens]] and loses control of his powers. She is later resurrected when [[Jemaine Clement]] uses a device to create her a new body from [[Katie Aselton|Katie Aselton's]].

 

* '''[[Legion (2017 series)|''Legion: Chapter 24'' (2019)]]''' [''[[w:c:legion:Lenny Busker|Lenny Busker]]'']: Commits suicide by stabbing herself in the neck with a knife. She dies moments later while talking to [[Dan Stevens]].

 

* '''[[Legion (2017 series)|''Legion: Chapter 24'' (2019)]]''' [''[[w:c:legion:Lenny Busker|Lenny Busker]]'']: Commits suicide by stabbing herself in the neck with a knife. She dies moments later while talking to [[Dan Stevens]].

−

* '''[[Criminal Minds (2005 series)|''Date Night'' (2020)]]''' Cat Adams: Executed by Lethal Injection (off screen)

+

* [[Criminal Minds (2005 series)| (2020)]] Cat Adams: Executed by Lethal Injection (off screen)

 
 
 

{{DEFAULTSORT:Plaza, Audrey}}

 

{{DEFAULTSORT:Plaza, Audrey}}
---
Revision as of 13:18, 8 February 2020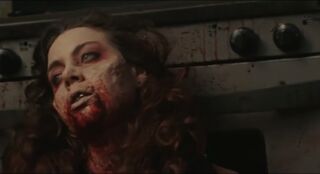 Aubrey Plaza (1984 - )
Film Deaths
Life After Beth (2014) [Beth Slocum]: Poisoned after being bitten on the neck by a snake. She later comes back as a zombie and is shot in the head by Dane DeHaan, causing her body to roll down a hill.
Ned Rifle (2014) [Susan]: Stabbed in the stomach with a knife during a struggle with Liam Aiken.
TV Deaths
Gallery
Community content is available under
CC-BY-SA
unless otherwise noted.