Arnold Chon (1980 - )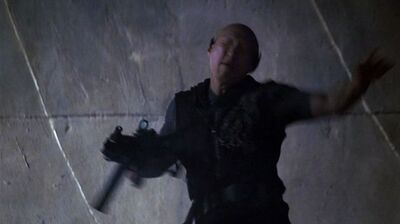 Extreme Honor (Video, 2001) [Chinese Bodyguard #1]: Shot to death by Dan Anderson.
We Were Soldiers (2002) [Stunts]: Commits suicide by blowing himself up after being stabbed in a knife fight with American soldiers in an attempt to go kamikaze.
Wake of Death (Video, 2004) [Biker Thug]: Bashed repeatedly with his own helmet by Jean-Claude Van Damme.
7 Seconds (Video, 2005) [Utility Stunts]: Dies instantly after getting the back of his head bashed into work-out equipment by Wesley Snipes.
Three Bullets (Short, 2009) [Wig]: Shot to death by Michael Jai White, causing Chon's shotgun to go off and shoot another henchman by accident.
Olympus Has Fallen (2013) [Stunts]: Plays four different North Korean terrorists: his first role is playing a N.K. commando who is shot to death in the hallways during a gunfight with Cole Hauser and other Secret Service agents; his second role is playing a sentry who is stealthily shanked to death by Gerard Butler; his third role is playing a henchman of Rick Yune's who presumably is killed when he and the remaining soldiers are disguised as hostages and blow up during the suicide bombing on the helicopter (For more information, see James Lew's death); his fourth and final death is as a stunt double for Kevin Moon's character who is shot in the head by Gerard Butler as he and Rick's men are about to shoot and kill Melissa Leo.
Community content is available under
CC-BY-SA
unless otherwise noted.