Wiki Targeted (Entertainment)
Play Sound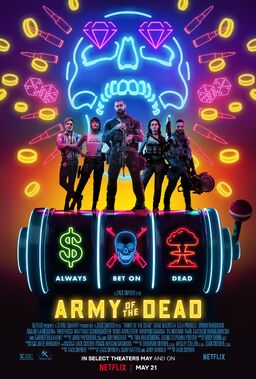 Army of the Dead (2021)
Director: Zack Snyder
Plot
[
]
Following a zombie outbreak in Las Vegas, a group of mercenaries (Dave Bautista, Ella Purnell, Omari Hardwick, Ana de la Reguera, Matthias Schweighofer, Nora Arnezeder, Tig Notaro, Raul Castillo, Samantha Win and Garret Dillahunt) take the ultimate gamble, venturing into the quarantine zone to pull off the greatest heist ever attempted.
Male Deaths
[
]
Female Deaths
[
]
Trivia
[
]
Dave Bautista turned down an offer to appear in The Suicide Squad (2021) in order to work on this film.
In the opening scene, two UFOs can be seen while the convoy is leaving Area 51.
After comedian Chris D'Elia was accused by multiple women of predatory sexual behavior, Netflix replaced his character with comedienne Tig Notaro. While the decision is generally considered to have been the right one by others in the industry, it cost the company "millions" to stage re-shoots with Notaro and digitally add her character into the film. Tig Notaro had to shoot all her insert scenes alone. This was a precaution as she is a cancer survivor and needed to film in the middle of the Covid-19 pandemic.
Director Zack Snyder spent a couple of years buying every 1960's-era Canon Dream Lens he could find on eBay to give the film a soft, organic look in contrast to the harsh apocalyptic zombie landscape in the film. He also spent a year before the film collaborating with Red Studios on designing custom-made cameras that combined digital camera technology with the Canon Dream Lens.
Zack Snyder's second zombie apocalyptic horror project since Dawn of the Dead (2004) his directorial debut. This film is not a sequel or related in anyway to Dawn except for featuring zombies.
Some of the zombies are robots. This is never explained in the film but Zack Snyder confirmed it: "If you pay close attention, there's a number of zombies that are clearly not zombies. You see normal zombies and then you see some robot zombies."
There are billboards advertising Larry Fong as a magician. Zack Snyder and

Larry Fong

have collaborated on 300, Watchmen, Batman V Superman, and Sucker Punch. Fong is a cinematographer and real life magician.
Gallery
[
]