Antonio Molino Rojo (1926 - 2011)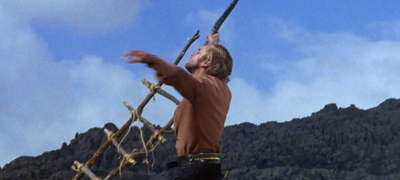 For a Few Dollars More (Per qualche dollaru in piu) (1965) [Frisco, member of El Indio's gang]: Shot to death by Clint Eastwood alongside Eduardo Garcia, after Clint tricks him by leaving his poncho and hat on a pole, while Clint waits seated in a swivel chair, then guns down Antonio and Eduardo.
The Big Gundown (La resa dei conti) (1966) [Widow's Ranchero] Shot to death by Lee Van Cleef.
A Minute To Pray, A Second to Die  (Un Minuto per pregare, un istante per morire) (1968) [Sen] Shot to death by Alex Cord.
Once Upon a Time in the West (C'era una volta il West) (1968) [Member of Frank's Gang at Auction]: Shot through a canvas billboard by Charles Bronson. He then falls through the billboard to the street as Henry Fonda watches.
Legion Of The Damned' (La legione dei dannati) (Battle of The Commandos) (1969) [Pvt Albert Hank]: Shot across the chest by a German soldier when the commandos attack the coastal observation post. (Thanks to Brian)
The Barcelona Kill (La Redada) (1974) [Gino]: Shot in the chest by Maximo Valverde in Antonio's office, while Antonio is talking on the phone to Eduardo Fajardo and Eduardo instructs Antonio to kill Maximo.
None known
Community content is available under
CC-BY-SA
unless otherwise noted.