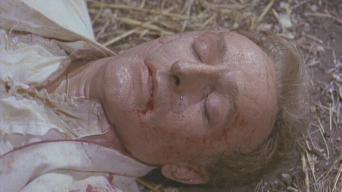 Anton Diffring (1918 - 1989)
Film Deaths
Edit
Park Plaza 605 (Norman Conquest) (1953) [Gregor]: Knocked out by Eva Bartok who hits him on the back of the head with a heavy ornament as he is confronting Carl Jaffe and Frederick Schiller in room 600. They leave, Anton recovers, then Robert Adair arrives and strangles him. The others return, find him dead but don't notice he's been strangled and think Eva has killed him. To cover this up they take him to room 605 and push him out the window. (Thanks to Brian)
Albert R.N. (Break To Freedom) (1953) [Hauptmann Schultz); The POW camp Commandant, he is killed by a stray RAF bomb when they raid the nearby town and he's outside the camp fleeing from Anthony Steel. (Thanks to Brian)
The Black Tent (1956) [Snr Afrika Korps Officer]: Shot with Frederick Jaeger by Anthony Steel and Andre Morell in the amphitheatre of the ruins of Sabratha. (Thanks to Brian)
The Man Who Could Cheat Death (1959) [Dr. Georges Bonnet]: Burned alive along with Delphi Lawrence when his basement catches fire.
Circus of Horrors (Phantom of the Circus) (1960) [Dr. Rossiter a.k.a. Dr. Bernard Scheuler]: Deliberately hit with a car by Colette Wilde as he attempts to flee from the circus.
The Edgar Wallace Mystery Theatre: Incident At Midnight (1963) [Dr Erik Leichner]: Shot in the back by robber Tony Garnett. (Thanks to Brian)
Operation Crossbow (1965) [German Soldier]: Presumably killed when the factory is bombed by the RAF; Anton is not seen during the bombing, but presumably is still present during the factory's destruction. (Thanks to Brian)
Battle of Sutjeska (The Fifth Offensive) (1973) [Gen. Alexander Löhr]: Executed by hanging.
No Way Out (Tony Arzenta) (1973) [Grunwald]: Shot in the chest by Alain Delon. (Thanks to Andrea)
TV Deaths
Edit
Colonel March Of Scotland Yard: The Silver Curtain (1956) [Davos]: His murder happens behind the "silver curtain" of spray from a fountain, in scene but obscured. Boris Karloff works out that John Chandos had thrown a knife into Anton's back from a side balcony as he waited at John's front door. (Thanks to Brian)
Overseas Press Club - Exclusive!: The Billion Franc Mystery'' (1957)' [Louis Walleau]: Shot off-camera by Nicole Maurey after she had discovered he was an undercover Nazi in 1938. We hear the shot as Lee Patterson arrives outside the building. (Thanks to Brian)
Community content is available under
CC-BY-SA
unless otherwise noted.