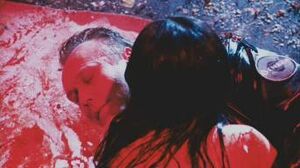 Anthony Stewart Head (1954 - )
Repo! The Genetic Opera (2008) [Nathan Wallace, the Repo Man]: Shot in the chest by Paul Sorvino while Anthony is tied to a chair on the stage; he dies shortly afterwards in the arms of his daughter (Alexa Vega).
Ghost Rider: Spirit of Vengeance (2011) [Benedict]: Shot to death by Johnny Whitworth. (Thanks to Tommy)
The brother is shot in the head and killed (off screen)
Royce (1994) [Pitlock]: Killed in an explosion, along with Miguel Ferrer and his cohorts, after James Belushi fastens a bomb to Miguel's belt while Miguel is hanging from the helicopter. (Thanks to ND)
Doctor Who: School Reunion (2006) [Mr. Finch]: Killed in an explosion, along with the other aliens, when K-9 (voiced by John Leeson) detonates the aliens' oil drum. (Thanks to Tommy)
Spooks: Traitors Gate hangs himself from the toilet door with a belt.
Manchild tv season shot in the back in a day dream
manchild tv season strangled to death in a imagination
Merlin: The Wicked Day (2011) [Uther Pendragon]: Mortally wounded during a swordfight with Phil Davis at the same time he kills Phil whilst protecting his son (Bradley James). He later dies after Colin Morgan attempts to use magic to revive him but the spell gets reversed due to a necklace Katie McGrath enchanted that she had Nathaniel Parker place around Anthony's neck. His body is seen later as Bradley mourns and his ghost appears in the episode The Death Song of Uther Pendragon.
Dominion (David whele) presumably got killed by 8 balls as they attacked him. Or got shot by senator 8ball Don't know what happened to him because it was cancelled after two seasons
NTSF:SD:SUV falls to his death from a balcony after Karen Gillian pushes him 3x11
Tom Clancy's jack Ryan: Rupert thorn) shot twice once in the chest and the second time in the head by a sniper as John kraninski watches when it kills him as it happenes 2x04
Theatre
Rocky horror picture show: Dr Frank n furter, dies when is shot by a laser gun and dies in the arms then is layed on the steps
Community content is available under
CC-BY-SA
unless otherwise noted.