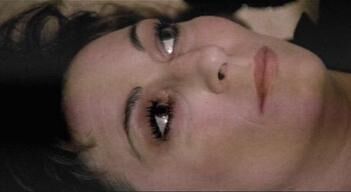 Anjelica Huston (1951 - )
A Walk with Love and Death (1969) [Claudia]: Killed (presumably off-screen), along with Assi Dayan, by enemy soldiers as they wait in a monastery. (I have not seen this film, but have read a plot summary referring to them awaiting death together.)
Crimes and Misdemeanors (1989) [Dolores Paley]: Shot to death (off-screen) in her apartment by Chester Malinowski, a hitman hired by Martin Landau. Her body is shown afterwards when Martin goes to her apartment to remove incriminating evidence.
The Witches (1990) [Eva Ernst/the Grand High Witch]: Chopped in half with a meat-cleaver by Rowan Atkinson in the hotel dining room, after having accidentally been turned into a mouse (along with all the other witches) by her own potion. Her body (still in mouse form) immediately dissolves into a cloud of green smoke. (Thanks to Joanna)
The Mists of Avalon (2001; mini-series) [Vivianne]: Slashed across the chest with a sword by Hans Matheson after Anjelica kills Joan Allen in self-defense; she dies in Julianna Margulies' arms shortly afterwards. (Thanks to Ron and Milou)
Sister of Tony Huston (screenwriter)
Mrs. Robert Graham Jr. (noted sculptor) (widowed)
Aunt of Jack Huston
Community content is available under
CC-BY-SA
unless otherwise noted.