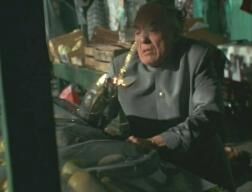 Angus Scrimm (1926 - 2016)
a.k.a. Rory Guy, Lawrence Guy
Phantasm (1979) [The Tall Man]: Head explodes when A. Michael Baldwin blasts him with a fire extinguisher, exploiting Angus' vulnerability to cold. (Angus reappears at the end of the movie; subsequent sequels explained that every time he dies, he reappears in a new body from the space-gate.) (Thanks to Keith)
Phantasm II (1988) [The Tall Man]: Dissolved by acid-laced embalming fluid after Paula Irvine stabs him with an embalming needle and Reggie Bannister activates the machine (on top of Angus being stabbed with one of the flying spheres by James LeGros). (He reappears at the end of the movie.) (Thanks to Keith)
Subspecies (1991) [King Vladislav]: Stabbed in the chest by Anders Hove.
Mindwarp (1992) [Seer/Systems Operator]: Dismembered when he falls into some grinding machinery by Bruce Campbell (this later turns out to be a simulation, with him combusting after passing on his duties to his daughter, Marta Martin)
Phantasm III: Lord of the Dead (1994) [The Tall Man]: Head explodes when a sphere emerges from his head, after he's been stabbed with a spear by Gloria Lynne Henry and locked in a refrigerated room. (As usual, he reappears after his death.) (Thanks to Keith)
Phantasm IV: Oblivion (1998) [The Tall Man/Dr. Jebediah Morningside]: Playing a dual role as the original human "Dr. Morningside" and the extradimensional "Tall Man," "Dr. Morningside" is killed when he goes through the space-gate and is replaced by the "Tall Man." "Tall Man" is killed in an explosion when A. Michael Baldwin detonates the hearse engine, but is immediately replaced by a new body. (Thanks to Keith)
I Sell the Dead (2008) [Dr. Vernon Quint]: Killed by a female vampire after he removes the stake from her chest and she revives (seen in silhouette from his outside window).
Beyond Belief: Fact or Fiction: The Gravedigger's Nemesis (1999) [Pete Ringwald]: Dies of a heart attack after being frightened by Herta Ware's ghost in the cemetery.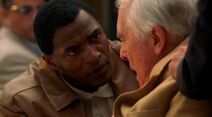 Community content is available under
CC-BY-SA
unless otherwise noted.