Tags:

apiedit

,

Visual edit

 

(4 intermediate revisions by 2 users not shown)
Line 9:
Line 9:
 

==Television Deaths==

 

==Television Deaths==

 

*'''''[[Fear the Walking Dead (2015 series)|Fear the Walking Dead: North]]'' (2016)''' [''Oscar Diaz'']: Dies from brain swelling after having a door slammed on his head by [[Cliff Curtis]] while attempting to stop Cliff from beating up [[Kelly Blatz]] and [[Kenny Wormald]]; He is then stabbed in the head by his brother ([[Raul Casso]]) to prevent Andres from coming back as a zombie.

 

*'''''[[Fear the Walking Dead (2015 series)|Fear the Walking Dead: North]]'' (2016)''' [''Oscar Diaz'']: Dies from brain swelling after having a door slammed on his head by [[Cliff Curtis]] while attempting to stop Cliff from beating up [[Kelly Blatz]] and [[Kenny Wormald]]; He is then stabbed in the head by his brother ([[Raul Casso]]) to prevent Andres from coming back as a zombie.

 
+

*'''''The Wrong Cruise'' (2018 TV Movie)''' [''Dante'']: Fatally shot by [[Vivica A. Fox]] and her daughter (Sidney Nicole Rogers) as he is attempting to kill them.

 
 
 

{{DEFAULTSORT:Londono, Andres}}

 

{{DEFAULTSORT:Londono, Andres}}

Line 16:
Line 17:
 

[[Category:Death scenes by brain damage]]

 

[[Category:Death scenes by brain damage]]

 

[[Category:Death scenes by head trauma]]

 

[[Category:Death scenes by head trauma]]

 
+

[[Category:Death scenes by stabbing]]

 
+

[[Category:Deaths in the Walking Dead universe]]

 
+

[[Category:People who died in the The Walking Deadverse]]

 
+

[[Category:People who died in a The Walking Dead series]]

 
+

[[Category:The Walking Dead cast members]]

 
+

[[Category:Bones Cast Members]]
---
Latest revision as of 02:12, 29 July 2018
Andres Londono (19?? - )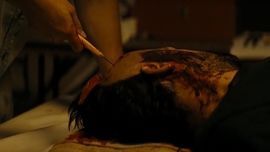 Fear the Walking Dead: North (2016) [Oscar Diaz]: Dies from brain swelling after having a door slammed on his head by Cliff Curtis while attempting to stop Cliff from beating up Kelly Blatz and Kenny Wormald; He is then stabbed in the head by his brother (Raul Casso) to prevent Andres from coming back as a zombie.
The Wrong Cruise (2018 TV Movie) [Dante]: Fatally shot by Vivica A. Fox and her daughter (Sidney Nicole Rogers) as he is attempting to kill them.
Community content is available under
CC-BY-SA
unless otherwise noted.