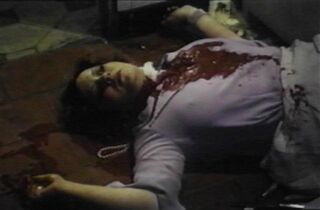 Andréa Ferréol (1947 - )
The Infernal Trio (Le Trio infernal) (1974) [Noemie]: Shot in the chest by Michel Piccoli. Michel, Mascha Gonska, and Romy Schneider then carry her body upstairs, undress her and place her in a bathtub filled with acid. (Nudity alert: Full frontal in the original release; however, her nude scene was cut from the US VHS release I viewed.)
A Zed & Two Noughts (1985) [Alba Bewick]: Commits suicide by taking poison (off-screen); she dies shortly afterwards (on-screen) in bed, with Brian Deacon and Eric Deacon beside her. (Thanks to Constantine)
Wings of Fame (1990) [Theresa]: Appears as a spirit in the afterlife, but the circumstances of her death are never mentioned.
Sweet Killing (1993) [Louise Crosse]: Hit on the head by a falling statue in a deathtrap set up by Anthony Higgins. We only hear the impact from off-screen, and do not see her body afterwards.
None known.
Community content is available under
CC-BY-SA
unless otherwise noted.