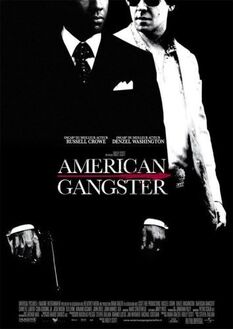 American Gangster (2007)
Director: Ridley Scott
Frank Lucas (Denzel Washington) earns his living as a chauffeur to one of Harlem's leading mobsters (Clarence Williams III). After his boss dies, Frank uses his own ingenuity and strict business code to become one of the inner city's most powerful crime bosses. Meanwhile, veteran cop Richie Roberts (Russell Crowe) senses a change in the mob's power structure and looks for ways to bring his opponent to justice.
Male Deaths
Edit
Female Deaths
Edit
Filming duration: 83 days: 78 in the U.S., and 5 in Thailand.
Ridley Scott recalls that this production was one of the most massive undertakings of his career. There were 360 scenes filmed in over 180 different locations.
David Fincher was interested in making the film back when the script was still titled "Superfly," but he and the studio could not agree on an appropriate budget for the film.
This is Ridley Scott's and Denzel Washington's first collaboration together. Washington did five film collaborations with Ridley's late younger brother Tony Scott.
Russell Crowe requested tape recordings of Richie Roberts speaking, in order to match his voice mannerisms accurately.
When Terry George was set to direct the film, with Don Cheadle as Frank Lucas, Joaquin Phoenix was a definite consideration for the role of Richie Roberts. Phoenix previously co-starred with Russell Crowe in Gladiator (2000), which was also directed by Ridley Scott.
James Gandolfini was offered the role of Detective Trupo, but declined it.
Community content is available under
CC-BY-SA
unless otherwise noted.