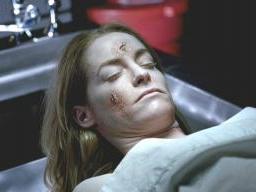 Amanda Wyss (1960 - )
Film Deaths:
Edit
To Die For (Dracula: The Love Story) (1989) [Celia Kett]: Bitten on the throat and drained of blood by Brendan Hughes in her hospital room (after he had previously torn her face in a phone booth); she later comes back as a vampire and is either decapitated or stabbed in the heart with a wooden stake in her hospital bed (she was brought back in the 1991 sequel Son of Darkness: To Die For II). (Thanks to Portsguy)
Shakma (Nemesis) (1990) [Tracy]: Killed by the baboon in a restroom stall after she tries to crawl through an air vent to escape; we only hear her scream after the baboon pulls her down into the stall. Her body is shown afterwards when Christopher Atkins discovers her. (Thanks to John)

TV Deaths:
Edit
CSI: You've Got Male (2001) [Donna Marks]: Slashed to death (due to a severed brachial artery) by shards of broken glass when she accidentally walks through a glass door during an argument with her sister (Robia LaMorte). Her body is shown in a drainage pipe when a passerby discovers her, then again in the morgue (along with Robia's) while William Petersen and Robert David Hall examine them; her death is shown in flashback towards the end of the episode. (Thanks to PortsGuy)
CSI: Cello and Goodbye (2011) [Tina Vincent]: Shot in the leg and head by Bill Irwin.
Community content is available under
CC-BY-SA
unless otherwise noted.