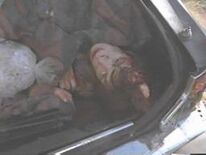 Amanda Plummer (1957 - )
Daniel (1983) [Susan Isaacson] Dies off-screen. (don't remember the exact reason of her cause of death). Her family is later seen going to her funeral.
Needful Things (1993) [Netitia 'Nettie' Cobb]: Stabbed/impaled through the chest when she falls onto Valri Bromfield's knife after they both fall out of the attic window during a fight. (Thanks to Kristy)
Butterfly Kiss (1995) [Eunice]: Drowned in the ocean by Saskia Reeves, at Amanda's own request. We only see a distant shot of Saskia holding her under, then walking away; Amanda's body is not shown afterwards.
The Final Cut (1995) [Rothstein]: Killed in an explosion while trying to defuse a bomb. (Thanks to Shawn)
Mimic 3: Sentinel (2003) [Simone Montrose]: Impaled by the giant insect at the door of her apartment, then burned to death when Lance Henriksen fires a flare at the insect. (Thanks to Dick Hertz)
Tales from the Crypt: Lover Come Hack to Me (1989) [Peggy/Peggy's Mother]: Playing a dual role as mother and daughter, the mother dies (off-screen) several years before the story begins, appearing only in flashbacks. (The daughter survives the episode.) (Thanks to PortsGuy)
Daughter of Christopher Plummer and Tammy Grimes
Community content is available under
CC-BY-SA
unless otherwise noted.