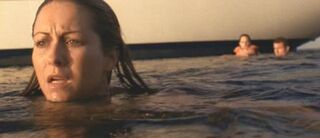 Ali Hillis (1978 - )
Deaths in Film
Edit
Open Water 2: Adrift (2006) [Lauren]: Presumably drowns (off-screen) after she swims off alone in search of land; her fate is unconfirmed, but it's extremely unlikely that she survived. (Thanks to Jake)
Deaths in Video Games
Edit
Starcraft 2: Wings of Liberty (2010) [Dr. Ariel Hanson]: The survival of Ali's character is dependent on the player's choice in dealing with a Zerg-related virus. In this instance, the player has to choose between defending the infected colonists from the attacking Protoss fleet led by Cree Summer or aiding Cree in eradicating the infestation. If the player chose the latter choice, Ali herself mutates into a monster in the aftermath of the mission, forcing Robert Clotworthy to kill her with gunfire.
Dissidia Duodecim: Final Fantasy (2011) [Lightning]: Killed (off-screen) whilst battling the Manikin army, along with Vaan (voiced by Bobby Edner), Yuna (voiced by Hedy Burress), Laguna Loire (voiced by Armando Valdes-Kennedy), Tifa Lockhart (voiced by Rachael Leigh Cook) and Kain Highwind (voiced by Liam O'Brien), in order to allow the other Warriors of Cosmos to survive and enter the next cycle; their bodies vanish from this plane and return to their own worlds, where they are still alive. (As they had been defeated and killed by the Manikins, who are an unauthorised foreign presence to the battlefield, they are permanently erased from the battlefield and constitutes a death in the eyes of the gods.) (For the Japanese version, see Maaya Sakamoto.)
Mass Effect 3 (2012) [Dr. Liara T'Soni]: Depending on the player's actions prior to the climactic assault on Earth, Ali can perish when Keith Szarabajka opens fire on the attacking forces, but only if the player takes Ali with them during the final mission and only if the player hasn't built up enough war-assets; if Ali was not picked as a squad member, she can also die off-screen when Seth Green crashes the Normandy II - once again, only if war assets weren't at sufficient levels.
Gears of War: Judgment (2013) [Lieutenant Sofia Hendrik]: Presumed dead after being kidnapped by COG forces during the time gap in between Judgment and Gears of War 3. Ali's fate is mentioned by Chris Cox while in a conversation with Fred Tatasciore.
Community content is available under
CC-BY-SA
unless otherwise noted.