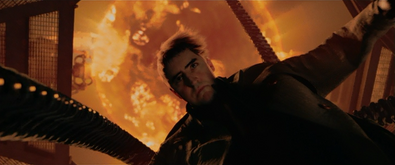 Alfred Molina (1953 - )
Film Deaths
Edit
Prick Up Your Ears (1987) [Kenneth Halliwell]: Commits suicide by taking an overdose of sleeping pills after he beats Gary Oldman to death in their bedroom; the movie opens with a close-up of Alfred's groggy face before he loses consciousness, and the rest of the movie shows the events leading up to the murder/suicide. Alfred's body is shown lying on the floor at the end of the movie. (Nudity alert: Rear)
White Fang 2: Myth of the White Wolf (1994) [Reverend Leland Drury]: Trampled to death by elk herds after being knocked off a horse-drawn carriage by Scott Bairstow's timber wolf. 
Dead Man (1995) [Trading Post Missionary]: Shot in the chest by Johnny Depp at the trading post, after Alfred pulls his own gun and Johnny stabs him in the hand.
Identity (2003) [Dr. Malick]: Strangled to death by Pruitt Taylor Vince when Pruitt suddenly lunges at him after opening a divider on a transport van going to a mental hospital.
Wonder Woman (2009; animated) [Ares]: Decapitated by Wonder Woman (voiced by Keri Russell) after a sword duel.
Don't Let Go (2019) [Howard]: Shot in the head by Mykelti Williamson as David Oyelowo watch on in horror. (His death may be erased after past David shot Mykelti but his fate wasn't confirm)
Frozen 2 (2019; animated) [Agnarr]: Drowns with Evan Rachel Wood (Iduna) when their ship sinks in a storm. He appears in visions and flashback sequences throughout the film. (NOTE: Maurice LaMarche voiced the character in Frozen (2013). However, since Molina voices him in this film and the subject of his death is revisited, this entry counts as well.) 
TV Deaths
Edit
Hey Arnold: The Jungle Movie (2017; animated) [La Sombra]: Injected with a poison by a sacred statue that senses his evil intent, he succumbs to the poison after attempting to kill Arnold (Mason Vale Cotton) his body then falls off a cliff.
Dragons: Race to the Edge: Triple Cross (2018) [Viggo Grimborn]: Sacrifices himself as he charges after the Dragon Hunters as the Skrill dragon sends off its attack in order to save Hiccup (voiced by Jay Baruchel).
Video Game Deaths
Edit
Spider-Man 2 (2004) [Dr. Otto Octavius a.k.a. Doctor Octopus]: Crushed to death or drowns when he tears apart the building to stop the fusion reactor from destroying New York.
Community content is available under
CC-BY-SA
unless otherwise noted.