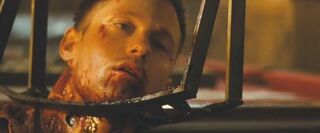 Alexander Skarsgård (1976 - )
Zoolander (2001) [Meekus]: Accidentally killed in an explosion, along with Asio Highsmith and Alexander Manning, when Asio lights a cigarette after they splash each other with gasoline. (Played for comic effect.) (Thanks to Tommy and Alicia)
Melancholia (2011) [Michael]: Killed, along with everybody else on Earth, when the planet Melancholia collides with Earth. (Thanks to Tommy and ND)
Straw Dogs (2011) [Charlie]: Throat slashed/crushed when James Marsden shuts a bear trap over Alexander's head. (See also Del Henney in the 1971 version.) (Thanks to Tommy, ND, and Michelle)
Battleship (2012) [Commander Stone Hopper]: Killed in an explosion along with most of his crew when the aliens fire on his ship as his brother (Taylor Kitsch) looks on helplessly.
Big Little Lies: You Get What You Need (2017) [Perry Wright]: Falls down a flight of stairs after being pushed by Zoë Kravitz, as he's beating Nicole Kidman.
On Becoming a God in Central Florida: The Stinker Thinker (2019) [Travis Stubbs]: Dies when he crashes his car into a lake cause he is sleep deprived. He then is eaten by an alligator suddenly.
"Paparazzi" (2009) (Lady Gaga music video): Poisoned when Lady Gaga slips a powder into his drink.
Community content is available under
CC-BY-SA
unless otherwise noted.