Wiki Targeted (Entertainment)
Play Sound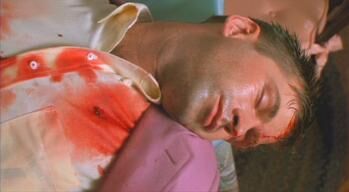 Alec Baldwin (1958 - )
Film Deaths
Beetlejuice (1988) [Adam Maitland]: Accidentally drowns, along with his wife (Geena Davis), when their car goes off a bridge and into the river. They appear as ghosts throughout the rest of the movie.
Married to the Mob (1988) ["Cucumber" Frank de Marco]: Shot repeatedly in the chest by Dean Stockwell in the bathroom, after Alec arrives for his tryst with Nancy Travis and discovers that Dean has already killed Nancy.
Miami Blues (1990) [Frederick J. Frenger Jr.]: Shot repeatedly in the chest by Fred Ward when Alec turns and points his gun at Fred in the kitchen (he dies while talking to Fred whilst sprawled on a table).
Malice (1993) [Dr. Jed Hill]: Shot repeatedly in the chest by Nicole Kidman.
The Juror (1996) [Teacher]: Shot in the chest by Demi Moore when he pulls a hidden gun on her (on top having previously been shot by a group of Guatamalan gunmen and fallen down some stone steps).
Looking for Richard (1996) [Alec Baldwin/Duke of Clarence]: In the play-within-the-film production of Richard III, the "Duke of Clarence" is killed by a group of assassins on Al Pacino's orders.
The Edge (1997) [Robert Green]: Dies of shock/blood loss or infection after impaling his leg on a sharpened spear while trying to kill Anthony Hopkins; he dies shortly afterwards while talking to Anthony.
Mercury Rising (1998) [Nicholas Kudrow]: Shot repeatedly in the chest by Bruce Willis on a rooftop when Alec holds the screaming and flailing Miko Hughes hostage (intending to drop him); he then falls from the roof and through a glass structure.
Final Fantasy: The Spirits Within (2001; animated) [Captain Gray Edwards]: Sacrifices himself by allowing his soul to merge with the Phantoms.
The Adventures of Pluto Nash (2002) [M.Z.M.]: Sucked into the vacuum of space (off-screen), some time before the movie begins; we learn of his death when the clone Eddie Murphy informs the original Eddie what happened. (Alec only appears in TV news footage.)
The Cooler (2003) [Shelly Kaplow]: Shot in the back of the head (off-camera) by Arthur J. Nascarella; we only see the gun firing.
Second Nature (2003) [Paul Kane]: Stabbed in the stomach with a screwdriver by Powers Boothe; he dies in Louise Lombard's arms shortly afterwards.
The Aviator (2004) [Juan Trippe]: Dies (off-screen) of a stroke, a few years after the movie ends.
The SpongeBob Squarepants Movie (2004; animated) [Dennis the Hitman]: Crushed against a catamaran when David Hasselhoff swims underneath it while he is riding on David's back. (Played for comic effect.)
Running with Scissors (2006) [Norman Burroughs]: Dies (off-screen) of cirrhosis; his death is mentioned in the on-screen text at the end of the movie.
Brooklyn Rules (2007) [Caesar Manginera]: Shot repeatedly (including in the face) by Frank Ferrara and 

Jeffrey M. Marchetti

outside of Freddie Prinze Jr.'s delicatessen.
Lymelife (2008) [Mickey Bartlett]: Bleeds to death after being shot in the back with a sniper rifle by his neighbor Timothy Hutton for being involved with Cynthia Nixon (the film ends as he lies on his porch).
Blue Jasmine (2013) [Harold Francis]: Commits suicide (off-screen) by hanging himself while in prison before the film begins; his death is revealed when his wife (Cate Blanchett) tells Bobby Cannavale. He only appears in Cate's flashbacks.
Mission: Impossible - Fallout (2018) [Alan Hunley]: Stabbed by Henry Cavill during a fight; he dies shortly with Tom Cruise, Ving Rhames and Simon Pegg at his side.
Pixie (2020) [Father Hector McGrath]: Shot in the back by Colm Meaney as Alec is about to shoot Olivia Cooke.
TV Deaths
Notable Connections
Father of

Ireland Baldwin

.
Gallery