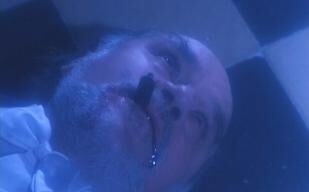 Aldo Sambrell (1931 - 2010)
a.k.a. Aldo Brell or Aldo Sambrelli, various other alternate spellings
A Fistful of Dollars (Per un pugno di dollari) (1964) [Manalo]: Shot to death by Clint Eastwood during a big shoot-out.
In A Colt's Shadow (All'ombra di una colt) (1965) [Ramirez] Shot in the forehead by Stephen Forsyth
Navajo Joe (1966) [Mervyn 'Vee' Duncan - Bandit Leader]: Hit in the forehead with an axe when Burt Reynolds throws it at him, while Aldo shoots Burt trying to kill him.
The Good, the Bad, and the Ugly (Il Buono, il brutto, il cattivo) (1966) [Member of Angel Eyes' Gang]: Shot to death by Clint Eastwood.
Son of a Gunfighter (1966) [Juan Morales] Shot to death in a shoot-out with Fernando Rey's men.
15 Scaffolds for a Murderer (15 forche per un assassino) (1967) [Danny / Bud Lee] Shot in the forehead by Craig Hill
A Bullet For The General (Quién sabe?) (1967) [Lt. Alvaro Ferreira]: Shot to death by Gian Maria Volontè
Face to Face (Faccia a faccia) (1967) [Zachary Shawn] Shot to death by William Berger 
Hellbenders (I crudeli) (1967) [Pedro]: Executed by hanging. 
A Long Ride From Hell (I Live For Your Death; Vivo per la tua morte) (1968) [Mexican Bounty Hunter] Shot to death. 
A Minute To Pray, A Second to Die (Un Minuto per pregare, un istante per morire) (1968) [Jesús María] Shot to death by Giampiero Albertini.
Once Upon a Time in the West (C'era una volta il West) (1968) [Cheyenne's Lieutenant (uncredited)]: Killed (offscreen) in a gun battle against men led by Gabriele Ferzetti; his body is seen as Henry Fonda surveys the aftermath.
Requieum for a Gringo (Requieum para el gringo) (1968) [Charley Fair] Shot numerous times in the back by Lang Jeffries.
La legione dei dannati (Legion Of The Damned, Battle Of The Commandos)' (1969)' [Sgt Karim Habinda]: Shot across the chest before he can jump from the train after pushing Jack Palance to safety. (Thanks to Brian)
Arizona Colt, Hired Gun (Arizona si scatenò... e li fece fuori tutti!) (1970) [Keene] Shot by Anthony Steffen.
The Light at the Edge of the World (1971) [Tarcante]: Stabbed in the chest with a knife by Kirk Douglas when he enters Samantha Eggar 's bedroom
Treasure Island (1972) [Israel Hands]: Shot by Kim Burfield and falls into the sea after throwing a knife at Kim as he chases her up the mast rigging. (Thanks to Brian)
Silver Saddle' (Sella d'argento) (1978) [Garrincha]: Stabbed in the chest when Giuliano Gemma throws a knife at him.
Operation Condor (Armour of God II: Operation Condor) (1991) [Adolf]: Killed in an explosion when the base self-destructs and he chooses to remain behind rather than attempt to escape.
Men of War (1994) [Goldmouth]: Killed in an explosion after Catherine Bell puts a grenade down his clothes.
Killer Barbys (Vampire Killer Barbys) (1996) [Arkan]: Shot in the mouth with a crossbow bolt by Charlie S. Chaplin.
None known
Community content is available under
CC-BY-SA
unless otherwise noted.