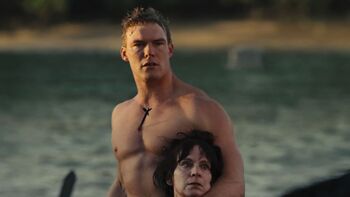 Alan Ritchson (1984 - )
The Butcher (2006) [Mark]: Bisected at the waist with a chainsaw by Bill Jacobson, after Bill first impales Alan with a pitchfork, pinning him to the door. (Thanks to Bloodtys)
Office Uprising (2018) [Bob]: Decapitated when Zachary Levi throws a makeshift shuriken made from a soda can at his neck.
Ghosts of War (2020) [Butchie]: Dies from mental trauma caused by leaving a simulation (off-screen); his death is depicted in the simulation as being fatally injured from leaping on top of a grenade to protect his team and his actual death is revealed when Billy Zane informs Brenton Thwaites.
Nora Roberts' Midnight Bayou (2009) [Lucian Manet]: Commits suicide (off-screen, exact method unspecified), after accidentally killing his brother (Alejandro Rose-Garcia). He only appears in the past-life visions/flashbacks seen by Jerry O'Connell and Lauren Stamile.
CSI: Miami: Spring Breakdown (2010) [Paul Arnett]: Kicked in the head (breaking his neck) after being buried in the sand by Chelsea Hobbs, as revenge for humiliating her in a sex-video when she was a fat girl, he's the second of three deaths related to Chelsea's revenge.
Community content is available under
CC-BY-SA
unless otherwise noted.