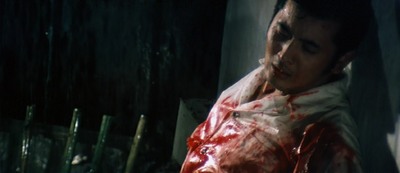 Akira Kobayashi (1938 - )
Rusty Knife (Sabita naifu) (1958) [Makoto Terada]: Shot to death through a window while at a police station.
Bloody Territories (Kôiki bôryoku: ryuuketsu no shima) (1969) [Yuuji Komatsu, Oonogi Clan senior member]: Stabbed to death in the film's climatic battle by Ryôji Hayama whom he also kills.
Violent Streets (Bôryoku gai) (1974) [Yazaki]: After being wounded by Noboru Andô in a duel, the pair are shot to death by gangsters sent by Tetsuro Tanba who barge in just as Kobayashi is about to spare Ando.
A Legend of Turmoil (Shura no densetsu) (1992) [Shuji Otaki]: Shot in the back by a young frightened yakuza whom he had just spared.
None Known.
Community content is available under
CC-BY-SA
unless otherwise noted.