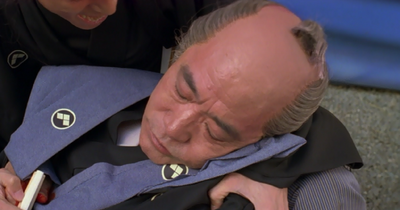 Akira Emoto (1948 - )
Film Deaths
Edit
Sailor Suit and Machine Gun (Sera-fuku to kikanju) (1981) [Kuroki] Dies of his wounds while talking on a phone. 
Heartbreak Yakuza (Saraba itoshiki hito yo) (1987) [Shoji Kato]: Shot to death by Takashi Sasano.
Kaizokuban Bootleg Film (1999) [Tatsuo]: Shot to death by Kippei Shina. However, the last shot of the film is him screaming so he might have come back to life.
Doppelganger (Dopperugengâ) (2003) [Crazy Man]: Run over by a truck.
The Blind Swordsman: Zatoichi (2003) [Tavern Owner Pops]: Cut down with a cane sword by Takeshi Kitano. 
Zebraman (2004) [Kani-Otoko]: Face punched in by Sho Aikawa. A pool of green slime ends up filling the hole in his face.
Ichi (2008) [Chobei Shirakawa]: Stabbed to death by Riki Takeuchi.
Sakurada Gate Incident (Sakuradamon-gai no hen) (2010) [Magojiro Kaneko] Executed via beheading off-screen.  We are only informed via text on the screen. 
Unforgiven (Yurusarezaru mono) (2013) [Kingo Baba]: Tortured and beaten to death by Koichi Sato.
Shin Godzilla (2016) [Ryuta Azuma]: Dies when Godzilla shoots a laser blast from its mouth destroying the helicopter he's in with the rest of the Japanese government officials. 
Connections
Edit
Community content is available under
CC-BY-SA
unless otherwise noted.