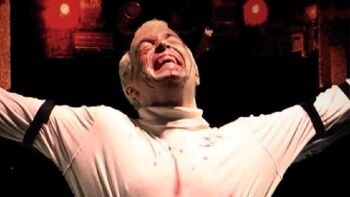 Adam Brooks (19?? - )
Inferno of the Dead (2009) [Grey Guy/Newscaster]: Playing a dual role, he appears as a zombie as "Grey Guy." ("Newscaster" survives the film.)
Father's Day (2011) [Ahab/Bric-a-Brac]: Playing a dual role as "Ahab" the main story and the "Star Raiders" fake trailer, "Ahab" commits suicide by shooting himself in the head (as Matthew Kennedy and Conor Sweeney look on) in order to go to Hell and battle the demonic Mackenzie Murdock. He appears as a spirit in Hell afterwards for the rest of the movie, and his body is shown again at the very end after he, Matthew, and Conor realize that they are still dead despite defeating the demon. In the "Star Raiders" preview, "Bric-a-Brac" is suffocated (along with Jason McDonald) when they accidentally teleport into the vacuum of space. (As "Bric-a-Brac," his face is covered with a furry alien mask.)
Manborg (2011) [Doctor Scorpius/Draculon]: Playing a dual role, "Doctor Scorpius" is electrocuted when robotic cables lash out around his arms and unleash their power into him. His body is then transformed into a host body for "Draculon"; "Draculon" is killed when Matthew Kennedy stabs him in the throat at the end of a fight. (As "Draculon," his face is covered with alien make-up.)
Another WolfCop (2017) [Henchman 2]: Torn in two when the werewolf Leo Fafard grabs Adam's legs and pulls them apart.
None known.
Community content is available under
CC-BY-SA
unless otherwise noted.