Spider-Man: No Way Home Trailer Dropped - The Loop
Play Sound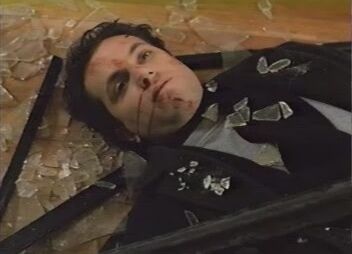 Adam Baldwin (1962 - )
Film Deaths
[
]
Cohen and Tate (1989) [Tate]: Crushed to death when some mining machinery falls on him, after he's shot repeatedly by Roy Scheider. 
Next of Kin (1989) [Joey Rossellini]: Shot in the chest by his uncle (Andreas Katsulas) in order to avenge the death of a son (Ben Stiller), after a fight with Patrick Swayze.
Deadbolt (1992) [Alec Danz] Falls to his death when Justine Bateman knocks him through a skylight as a way of officially rejecting him when Baldwin attempted to say he loved her.
Eight Hundred Leagues Down the Amazon (1993) [Koja]: Falls to his death. (detail needed)
Wyatt Earp (1994) [Tom McLaury]:  Shot to death with a shotgun by Doc Holliday (Dennis Quaid) during the Gunfight at the OK Corral.
Digital Man (1995) [Captain West]: Shot in the chest by Ed Lauter.
Smoke Jumpers (1998) [Don Mackey]: Burned to death in a forest fire.
Double Bang (2001) [Vinnie Krailes]: Shot by Jon Seda. He dies while talking to William Baldwin.
Hypersonic (2002) [Christopher Bannon]: Shot by Julian Vergov (off-screen). Antonio Sabato Jr. reveals his fate in voice-over.
The Keyman: Finding Redemption (2002) [Chris Myers/Keyman]: Dies when a fiery beam falls on him.
Lady Jayne Killer (a.k.a. Betrayal) (2003) [Det. Mark Winston]: Shot by

Julie du Paige

 while investigating the murders Julie's committed at the motel she's staying at.
Monster Makers (2003) [Sheriff Jay Forrest/Jason]: Playing a dual role, "Forrest" is 'erased' from existence after he whiteouts his description in the script. "Jason" survives the film. (This doesn't really count as a death but I'm putting it down just in case.)
Evil Eyes (2004) [Jeff Stenn]: Commits suicide by lighting himself on fire (off-screen). We only see him dousing himself with gasoline and lightning a match before the screen cuts to black.
The Thirst (2006) [Lenny]: Died and turned into a vampire (off-screen) before the film begins. He later bleeds to death when Matt Keeslar slits his throat after drinking Alicia Morton's blood (who is hemophiliac).
Sands of Oblivion (2007) [Jesse Carter]: Smothered/crushed to death by a giant wave of sand that the demon had set in motion while trying to capture Morena Baccarin.
Superman: Doomsday (2007; animated) [Superman/Superman Clone]: Superman dies of the wounds he received in the battle with Doomsday; he comes back to life later after his body is retrieved by his robot (Tom Kenny) and brought to the Fortress of Solitude. The clone dies after inhaling Kryptonite gas from a grenade thrown at him by the real Superman.
Insight (2011) [Dr. Graham Barrett]: Shot in the chest by Natalie Zea, to the horror of

Sean Patrick Flannery

. His fate is not shown on screen but it's heavily implied he died.
War of the Worlds: Goliath (2014; animated) [Wilson]: Incinerated by the alien's ray gun.
The Kid (2019) [Bob]: Shot in the head by Dane DeHaan.
TV Deaths
[
]
NBC Special: Out of Time (1985) [Otto Fromer] : Dies (off-screen) at sea before the story begins. It is implied his death is reversed after his interactions with Amy Locane and

R.D. Robb

and he dies of natural causes.
Blind Justice (1994) [Sgt. Hastings]: Shot to death by his own men.
Trade Off (1995 TV Movie) [Thomas Hughes]: Dies from blood loss (off-screen) after being shot by Theresa Russell. (His fate is not shown but it's heavily implied).
The X-Files: The Truth (2002) [Knowle Rohrer]: Killed when he's pulled into some magnetite rocks during a confrontation with Annabeth Gish and Robert Patrick. 
Angel: Not Fade Away (2004) [Marcus Hamilton]: Neck snapped by David Boreanaz after a long fight between the two.
Bones: "Two Bodies in the Lab" (2006)  [Special Agent Jamie Kenton]: While trying to kill Emily Deschanel - he gets shot in back by David Boreanaz. His fate is not shown on screen but it's heavily implied he died.
Day Break: What If They Find Him? (2006) [Chad Shelten]: Shot to death by Meta Golding; his death is repeated when the time-loop cycle reoccurs, but is prevented in the next cycle when Taye Diggs sends Victoria Pratt to meet with Adam.
Day Break: What If He Walks Away? (2007) [Chad Shelten]: Shot to death (off-screen), along with Moon Bloodgood, by Jonathan Banks in a hotel room; we learn of their deaths afterwards when Ian Anthony Dale and Mitch Pileggi show the crime-scene photos to Taye Diggs. 
Day Break: What If She's the Key? (2007) [Chad Shelten]: Shot to death (off-screen), along with Moon Bloodgood, by Jonathan Banks in a hotel room; when the time-loop cycle reoccurs; their deaths are prevented by Taye Diggs in the next cycle.
Transformers Prime: Crossfire (2012; animated) [Breakdown]: Sliced to pieces (off-screen) by Airachnid (Gina Torres). We only hear him scream and see the carnage after. His remains are later discovered by MECH Agents, then rebuild and later used to put Silas (Clancy Brown after he was mortally wounded by Optimus Prime (Peter Cullen) in Nemesis Prime.
Video Game Deaths
[
]
Kill.Switch (2003) [Archer]: Shot in the chest by

Marcus McCollum

at the end of a shootout.
Mass Effect 2 (2010) [Kal'Reegar]: During

Ash Sroka

's recruitment mission, Adam can die from enemy Geth fire if the player does not intervene in having Mark Meer/Jennifer Hale prevent Adam from making a suicidal charge against them. Otherwise, Adam can survive the game.
Mass Effect 3 (2012) [Kal'Reegar]: During the event Adam survives Mass Effect 2, Adam does not appear in the third game, where the story reveals he dies off-screen in battle during the Reaper War.
Notable Connections
[
]